I'm sure the dragons of Pern are bowing down as tears rain from their eyes. It's a sad day for those lovers of fantasy, who remember the Dragonriders of Pern and other such tales.
Anne McCaffrey was one of the first authors to introduce me to the world of dragons and other such creatures. To this day I have several of the series on my bookshelf, held in the same esteem as Frank Herbert and JRR Tolkien.
But Ms. McCaffrey has passed the torch to her middle ch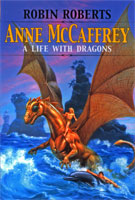 ild, Todd, who penned several stories with her, as well as a few on his own. May he carry the torch proudly and share the land of dragons with the next generation.
If you'd like to learn more about the life of
Anne Inez McCaffrey
(1 April 1926 - 21 November 2011), this biography by Robin Roberts gives a good picture of her life.
I believe her Dragons of Pern will live on for generations to come, but her loss will be felt by all readers of fantasy.